Dr. John F. Cryan, PhD
University College Cork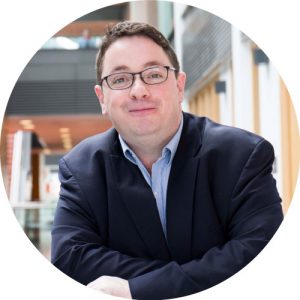 We are at the beginning of a revolution
John F. Cryan is Professor & Chair, Dept. of Anatomy & Neuroscience, University College Cork, Ireland and is also a Principal Investigator at APC Microbiome Ireland Prof. Cryan's current research is focused on understanding the interaction between brain, gut & microbiome and how it applies to stress, psychiatric and immune-related disorders at key time-windows across the lifespan. Prof. Cryan has published over 400 articles and is co-author of "The Psychobiotic Revolution: Mood, Food, and the New Science of the Gut-Brain Connection" from National Geographic Press. He has received numerous awards including UCC Researcher of the Year in 2012; UCC Research Communicator of the Year 2017, the University of Utrecht Award for Excellence in Pharmaceutical Research in 2013 and being named on the Thomson Reuters Highly Cited Researcher list in 2014 and Clarivate Analytics Highly Cited Researcher list in 2017. He was elected a Member of the Royal Irish Academy in 2017. He also received a Research Mentor Award from the American Gastroenterology Association and the Tom Connor Distinguished Scientist Award from Neuroscience Ireland in 2017 and was awarded an honorary degree from the University of Antwerp, Belgium this Spring. He was a TEDMED speaker in 2014 and is currently President of the European Behavioural Pharmacology Society. The Microbiome and Brain Health
Dr. John F. Cryan, PhD
Gut microbes play a huge factor in our thoughts, our cognition and our social behaviour, so we need to know how to take care of our microbiome to better support our brain and mental health. Dr. John Cryan leads us through some of the ways we may be hurting our microbiome, and how to fix it with psychobiotics.
Duration: 33m12