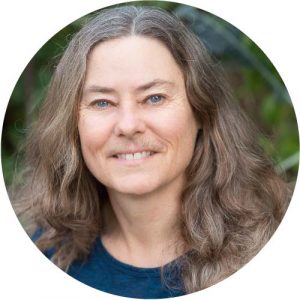 Once you realize your body is an ecosystem it puts health and wellness in a whole new light.
Anne Biklé attended the University of California, Santa Cruz earning Bachelors' degrees in Biology and Natural History. She holds a Masters Degree in Landscape Architecture from the University of California, Berkeley.
She has over two decades of professional experience spanning field biology, watershed restoration, environmental planning, and public health. She uses her broad background and endless fascination with the natural world to examine connections between people and their environments. The Hidden Half of Nature is her first book. She spends her free time out in the garden with her hands on plants and dirt.
Additional Reading
Khanna, S. and Tosh, P. (2014). A Clinician's Primer on the Role of the Microbiome in Human Health and Disease. Mayo Clin Proc, pp.107-14.
Walter, J. and Ley, R. (2011). The Human Gut Microbiome: Ecology and Recent Evolutionary Changes. Annual Review of Microbiology, 65(1), pp.411-429. Gardening to Cultivate Your Microbiome
When a landscape architect set out to change the state of the soil in her garden, she ended up learning a lot more about microbes, how they communicate with our immune system, and our own cancer risk.
Duration: 16m01s