Dr. Chris Lowry, PhD
University of Colorado Boulder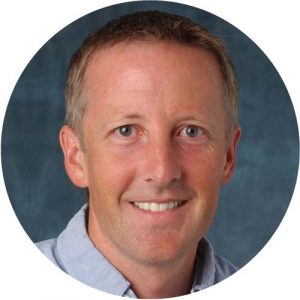 Mental health is health, and the microbiome is just as important to our mental health as any other aspect of our well-being.
Christopher A. Lowry, Ph.D., is an Associate Professor in the Department of Integrative Physiology and Center for Neuroscience at the University of Colorado Boulder, with a secondary appointment in the Department of Physical Medicine and Rehabilitation (PM&R) and Center for Neuroscience at the University of Colorado Anschutz Medical Campus (AMC), a Principal Investigator in the Department of Veterans Affairs Eastern Colorado Health Care System, VA Rocky Mountain Mental Illness Research, Education, & Clinical Center (MIRECC), Denver Veterans Affairs Medical Center (VAMC), and director of the Behavioral Neuroendocrinology Laboratory at CU Boulder. He is Co-Director, with Dr. Lisa Brenner, of the Military and Veteran Microbiome Consortium for Research and Education (MVM-CoRE). Dr. Lowry's research program focuses on understanding stress-related physiology and behavior with an emphasis on the role of the microbiome-gut-brain axis in stress resilience, health and disease.
Additional Reading
Barberán, A., Ladau, J., Leff, J., Pollard, K., Menninger, H., Dunn, R. and Fierer, N. (2015). Continental-scale distributions of dust-associated bacteria and fungi. Proceedings of the National Academy of Sciences, 112(18), pp.5756-5761.
Fall, T., Lundholm, C., Örtqvist, A., Fall, K., Fang, F., Hedhammar, Å., Kämpe, O., Ingelsson, E. and Almqvist, C. (2015). Early Exposure to Dogs and Farm Animals and the Risk of Childhood Asthma. JAMA Pediatrics, 169(11), p.e153219.
Reber, S., Siebler, P., Donner, N., Morton, J., Smith, D., Kopelman, J., Lowe, K., Wheeler, K., Fox, J., Hassell, J., Greenwood, B., Jansch, C., Lechner, A., Schmidt, D., Uschold-Schmidt, N., Füchsl, A., Langgartner, D., Walker, F., Hale, M., Lopez Perez, G., Van Treuren, W., González, A., Halweg-Edwards, A., Fleshner, M., Raison, C., Rook, G., Peddada, S., Knight, R. and Lowry, C. (2016). Immunization with a heat-killed preparation of the environmental bacteriumMycobacterium vaccaepromotes stress resilience in mice. Proceedings of the National Academy of Sciences, 113(22), pp.E3130-E3139.
Stein MM, Hrusch CL, Gozdz J, Igartua C, Pivniouk V, Murray SE, Ledford JG, Marques Dos Santos M, Anderson RL, Metwali N, Neilson JW, Maier RM, Gilbert JA, Holbreich M, Thorne PS, Martinez FD, von Mutius E, Vercelli D, Ober C, Sperling AI. (2016). Innate Immunity and Asthma Risk in Amish and Hutterite Farm Children. N Engl J Med. 375(5), pp. 411-421. The Old Friends Hypothesis & the M.Vaccae Story
According to the "Old Friends Hypothesis," our body is old friends with some microorganisms that have been a part of our evolution and are necessary for our health.
Duration: 26m02s Invisible Microbial World of the Built Environment
There's a large global trend in urbanization, and there are also large increases in inflammatory disorders. Coincidence? An emerging area of study is looking at how the microbiome of the built environment affects our health.
Duration: 14m58s Diet, Farming & Lifestyle: Microbiome Impacts
A diverse microbiome is Important for overall health – but it's becoming increasingly hard to cultivate a diverse microbiome due to modern farming practices. Learn helpful diet and lifestyle tips to introduce more diversity.
Duration: 10m40s