Dr. Emma Allen-Vercoe, PhD
University of Guelph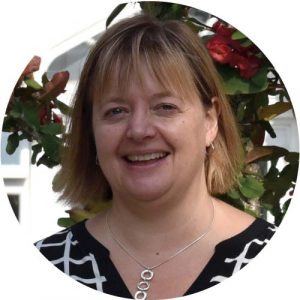 Our microbes are part of us, and we should consider ourselves their guardians and caretakers. If we look after them, they will help to look after us.
Emma obtained her BSc (Hons) in biochemistry in 1993 from the University of London, and her PhD in molecular microbiology through an industrial partnership with the Veterinary Laboratories Agency, conferred through the Open University in 1999.   Her PhD studies focused on virulence determinants of Salmonella enterica, and her postdoctoral years (in the UK, at the Centre for Applied Microbiological Research (now Public Health England)) as well as at the University of Calgary expanded this work and provided an opportunity to work on a range of different bacterial species, including Mycobacterium tuberculosis, Campylobacter jejuni and enterohemorrhagic E.coli.
In 2005, Emma won a Fellow-to-Faculty transition award through the Canadian Association of Gastroenterologists/AstraZeneca and the Canadian Institutes of Health Research, that allowed her to start her independent career in Calgary in 2006. She chose to study the normal microbes of the human gut, at that time an emerging area of interest, however, she bucked the trend and instead of simply jumping on the high throughput sequencing bandwagon, she chose to as well try to culture these so-called 'unculturable' microbes in order to better understand their biology.  To do this, she developed a model gut system (dubbed 'Robogut') to emulate the conditions of the human gut and allow communities of microbes to grow together, as they do naturally.
Emma moved her lab and this system to the University of Guelph in late 2007, and has been a recent recipient of the John Evans Leader's Fund (through the Canadian Foundation for Innovation) that has allowed her to develop her specialist anaerobic fermentation laboratory further. She currently runs a lab of 11 people with projects that are broad in nature, but united under the banner of human microbiome research. These projects include studies of Clostridioides difficile infection, Autism Spectrum Disorder, Inflammatory Bowel Disease, Colorectal Cancer, and Neonatal Necrotizing Enterocolitis, and also include characterizing how different food substrates affect both healthy and diseased gut microbial ecosystems.
Additional Reading
Strauss, J., Kaplan, G., Beck, P., Rioux, K., Panaccione, R., DeVinney, R., Lynch, T. and Allen-Vercoe, E. (2011). Invasive potential of gut mucosa-derived fusobacterium nucleatum positively correlates with IBD status of the host. Inflammatory Bowel Diseases, 17(9), pp.1971-1978.
Petrof, E., Gloor, G., Vanner, S., Weese, S., Carter, D., Daigneault, M., Brown, E., Schroeter, K. and Allen-Vercoe, E. (2013). Stool substitute transplant therapy for the eradication of Clostridium difficile infection: 'RePOOPulating' the gut. Microbiome, 1(1), p.3.
Wissenbach, D., Oliphant, K., Rolle-Kampczyk, U., Yen, S., Höke, H., Baumann, S., Haange, S., Verdu, E., Allen-Vercoe, E. and von Bergen, M. (2016). Optimization of metabolomics of defined in vitro gut microbial ecosystems. International Journal of Medical Microbiology, 306(5), pp.280-289. Autism has been approached as a brain disease. But the "Robogut," a simulated gut, is helping researchers better understand the microbiome, and ultimately autism, with the question – what if autism is a gut disease?
Duration: 20m14s The RoboGut: A Tool for Studying the Microbiome
A simulated gut called the "Robogut" allows researchers to better understand the microbiome. Not only does it allow researchers to better understand microbes in a community, but also the metabolites that they produce.
Duration: 23m14s