Dr. Leo Dieleman, MD, PhD
University of Alberta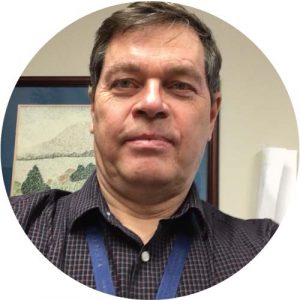 There is hope that dietary supplements and fibres can change the natural disease course of inflammatory bowel disease.
Dr. Dieleman is Professor of Medicine, clinician-scientist and the Director of the IBD group and Director of Clinical Research at the Division of Gastroenterology at the University of Alberta in Edmonton, Canada.
Dr. Dieleman is originally from the Netherlands, received his MD degree from Catholic University of Nijmegen in 1983, finished his Internal Medicine training at Leiden in 1989, and his clinical GI training at the Free University of Amsterdam in 1996. Between his clinical training he received a Fogarty Fellowship from NIH that formed the basis of his PhD studies on the role of cytokines in experimental and human IBD with Dr. Charles Elson at UAB Birmingham, Alabama and he subsequently received his PhD degree in 1995 at the Free University of Amsterdam during his clinical GI Fellowships. Dr. Dieleman then emigrated to join the GI Division as Assistant Professor in Chapel Hill North Carolina. Under the mentorship of Dr. Balfour Sartor he received a KO8 and RO3 Award from NIH. Since 2003 Dr. Dieleman is at the University of Alberta.
Dr. Dieleman is an internationally recognized translational scientist on the role of intestinal bacteria, probiotics, prebiotics and diets for the pathogenesis and treatment of IBD. He has been funded by NIH, CIHR, Crohn's and Colitis Foundation of Canada and Alberta Innovates since 1998 and has published over 100 original articles and book chapters in several high impact journals. Recently, Dr. Dieleman was awarded the Distinguished Researcher Award by the Alberta Society of Gastroenterology.
Additional Reading
Derikx, L., Dieleman, L. and Hoentjen, F. (2016). Probiotics and prebiotics in ulcerative colitis. Best Practice & Research Clinical Gastroenterology, 30(1), pp.55-71.
Floch MH, Walker A on behalf of Sanders E, Nieuwdorp M et al. Recommendations for Probiotic Use—2015 Update. (2016). Journal of Clinical Gastroenterology, 50(9), p.800.
Valcheva, R. and Dieleman, L. (2016). Prebiotics: Definition and protective mechanisms. Best Practice & Research Clinical Gastroenterology, 30(1), pp.27-37. The Importance of Prebiotics
The definition of prebiotics is ever evolving, these non-digestible long chain carbohydrates feed colonic bacteria. Our gut microbiome depends on prebiotics for survival. If our diet is lacking prebiotic fibre, we may cause an unintended dysbiosis, which could further contribute to an inflammatory state.
Duration: 12m52s