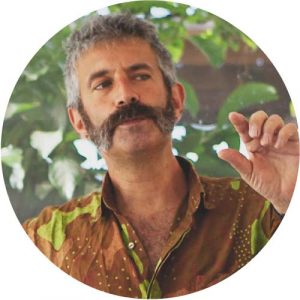 Harness the power of microbes and ferment.
My name is Sandor Ellix Katz, and I am a fermentation revivalist.
My interest in fermentation grew out of my overlapping interests in cooking, nutrition and gardening. It started with sauerkraut. I found an old crock buried in our barn, harvested cabbage from our garden, chopped it up, salted it, and waited. That first kraut tasted so alive and powerfully nutritious! Its sharp flavor sent my salivary glands into a frenzy and got me hooked on fermentation. I have made sauerkraut ever since, earning the nickname Sandorkraut, even as my repertoire has expanded. I have explored and experimented widely in the realm of fermentation, and my mission with this website is to share information and resources, in order to encourage home fermentation experimentalists and propel more live-culture foods out into our culture.
I am a native of New York City, a graduate of Brown University, and a retired policy wonk. In 1993, I moved from New York City to Cannon County, Tennessee, where I am part of a vibrant extended community of queer folks (and many other friends and allies). I have AIDS and consider fermented foods to be an important part of my healing. The Art of Food Fermentation
Fermentation is an ancient food preservation technique that also boasts many health benefits. By harnessing the power of microorganisms, you can make food more delicious, stable for storage and more digestible.
Duration: 27m43s